Vienna's Zentralfriedhof (Vienna Central Cemetery) is not only the city's largest burial ground, by far, but also ranks as one of the world's largest burial grounds by numbers of interred. It therefore is no wonder that it has become one of the most beloved and visited places in Vienna. For locals, the enormous, serene space is a place to stroll and reflect; for tourists, the park-like grounds with their perfectly arranged and well-maintained grave sites are a must-see attraction.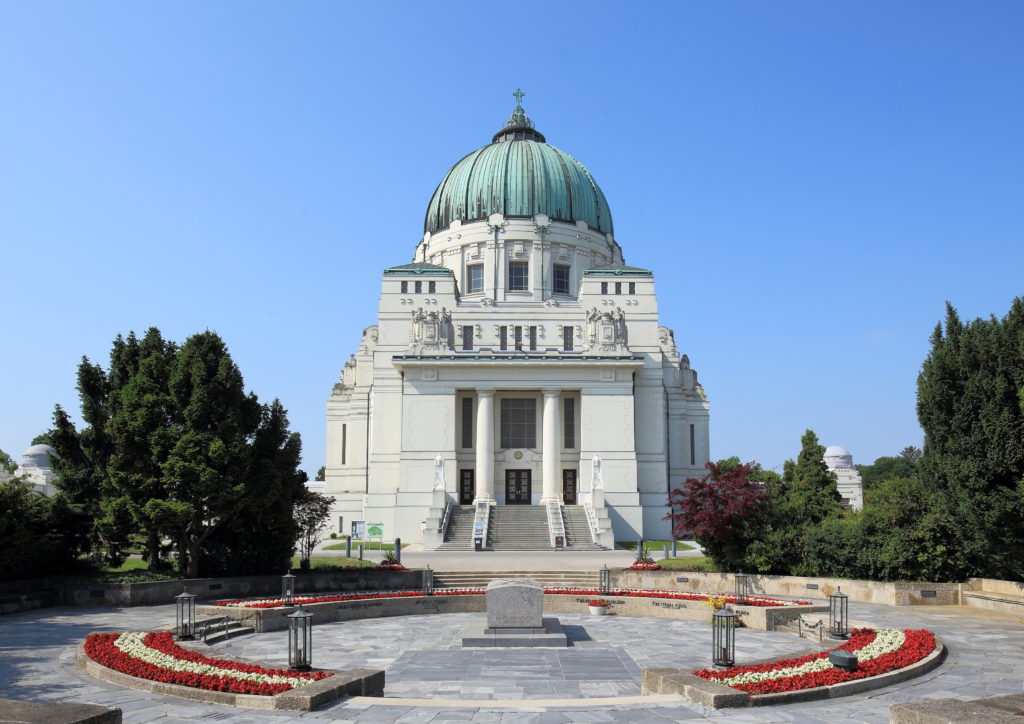 Overview
The cemetery, opened on All Saints Day in 1874, is located in the south-east of Vienna in the district of Simmering. It holds over 330.000 graves spaced out over an area of 2.5 km2 (620 acres), and has a higher "population" (with over 3 million people interred in the grounds) than the whole city of Vienna has living residents.
One of the most notable aspects of this cemetery is its interdenominational character. The burial grounds are open to all faiths and religions, and are divided into a number of sub-sections: in addition to the Catholic section (the biggest one), there is a Protestant section, two Jewish cemeteries, various Orthodox sections (Russian, Romanian, Coptic, etc.), Muslim and Mormon burial grounds, as well as Europe's first Buddhist cemetery.
A detailed map of the cemetery's layout can be found here.
Ehrengräber / Graves of Honour
The Zentralfriedhof has a special section, the so called Ehrengräber (Graves of Honour), where notables from many walks of life, like composers, writers, artists, and politicians, are buried. Some of the latter can be found in another special location of the cemetery: the Presidential Vault, which is the final resting place of former Austrian presidents.
Politicians aside, the main attraction for visitors are the Ehrengräber for Austria's famous composers (Group 32A). Many of the musical genius interred at the Zentralfriedhof now have been transferred from their original resting places, and -in some cases- therefore have two official gravesites. But let us ignore those slightly confusing instances for the moment, and have a look at the musical who-is-who that is buried at the Vienna Central Cemetery:
Johannes Brahms (1833 – 1897)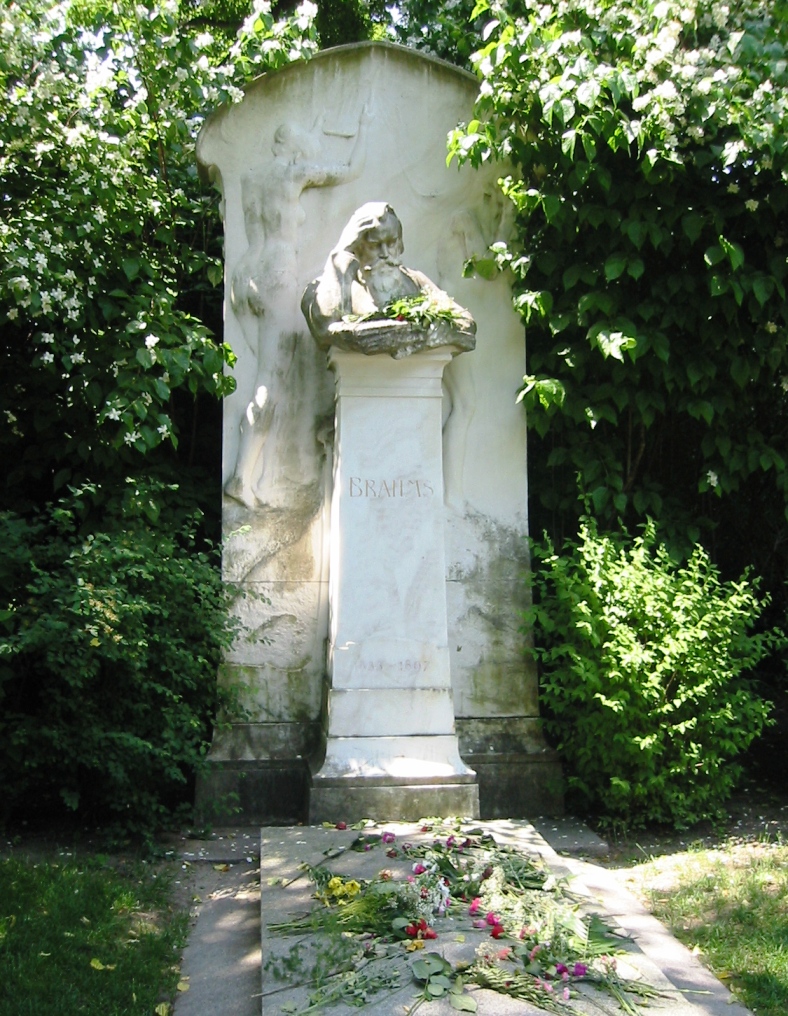 The German-born composer, pianist and conductor of the Romantic period has spent the majority of his professional life in Vienna. He ranks alongside the other superstar-composers Johann Sebastian Bach and Ludwig van Beethoven when it comes to talent and status and has rightly found his last home in Vienna's most beautiful cemetery in Grave 26.
Franz Schubert (1797 – 1828)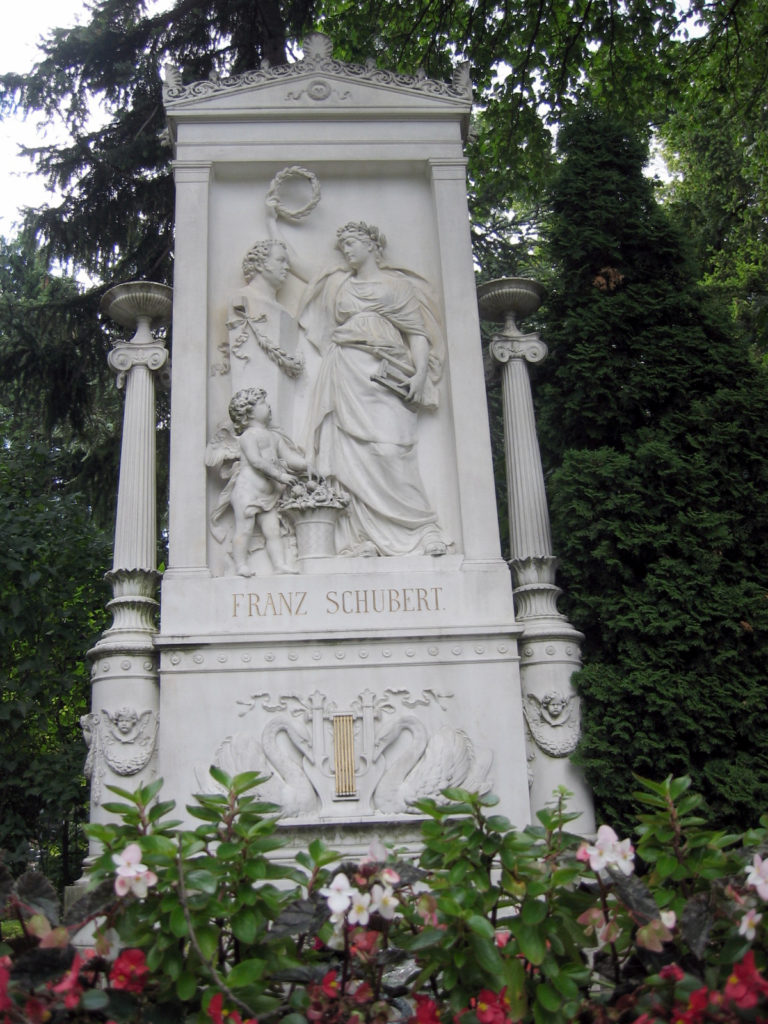 The Austrian composer of the late Classical and early Romantic period has left behind an incredible body of works, including twelve operas, nine symphonies, and over six-hundred songs, despite his early death at just 31 years of age. He is best known for his Piano Quintet in A Major D. 667 – Trout Quintet (German: Forellenquintett) and his song cycle Die schöne Müllerin D. 795 and has only risen to fame after his untimely death. His body has been relocated to a Grave of Honour in 1888, and can now be found at Grave 28.
Johann Strauss Jr. (1825 – 1899)
The son of another famous Strauss (Johann Senior, who can be found on the Zentralfriedhof as well) was a renowned composer of light music, dances, and operettas. He wrote more than 500 waltzes, polkas, quadrilles in his lifetimes and, in his role as "The Waltz King", was almost singlehandedly responsible for the waltz's popularity in 19th century Vienna. He is most famous for his operetta Die Fledermaus and the Donauwalzer – the Blue Danube Waltz and lies in Grave 27.
Ludwig van Beethoven (1770 – 1827)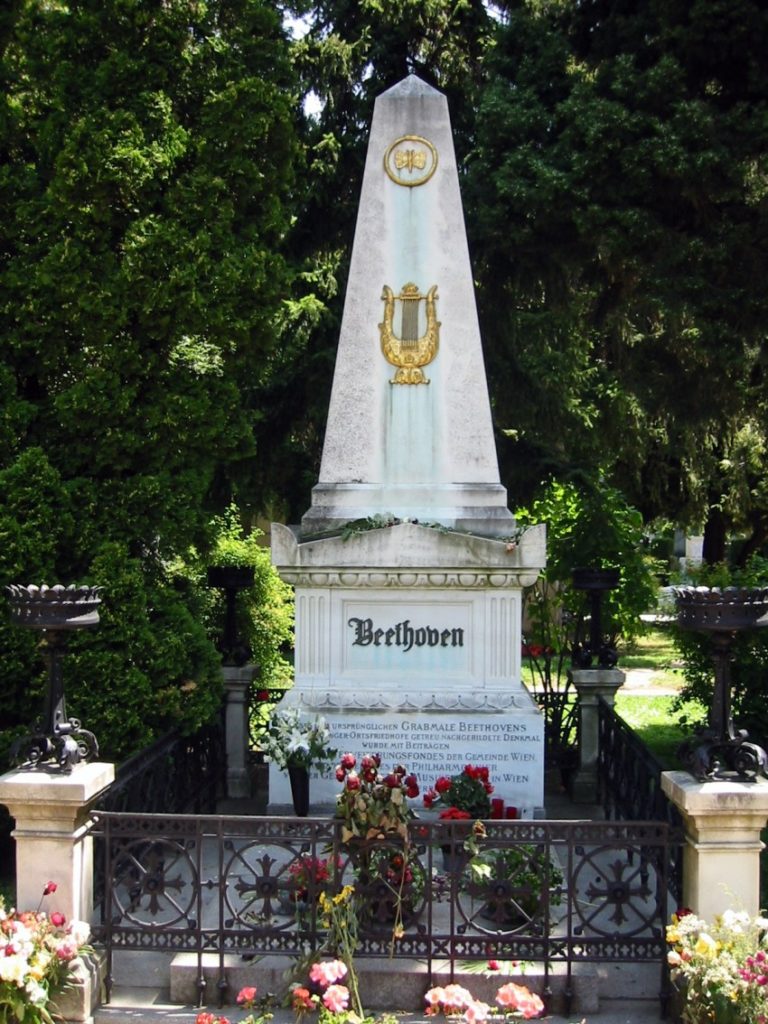 Another German-born composer who moved to and subsequently found fame in Vienna. Beethoven was a crucial figure in the transition between the Classical and the Romantic period and is considered to be one of the, if not the single-most influential and greatest composer of all time. The composer of nine symphonies, five piano concertos, one violin concerto, thirty-two piano sonatas, sixteen string quartets, two masses, and the opera Fidelio, gradually lost his hearing and died completely deaf. He is best known for his last symphony, the famous Beethoven's 9th (Symphony No. 9 in D Minor, Op. 125) and Für Elise (Bagatelle No. 25 in A Minor), a posthumously discovered piece nearly every piano student has to play at some point, and has found his last resting place in Grave 29.
Wolfgang Amadeus Mozart (1756 – 1791)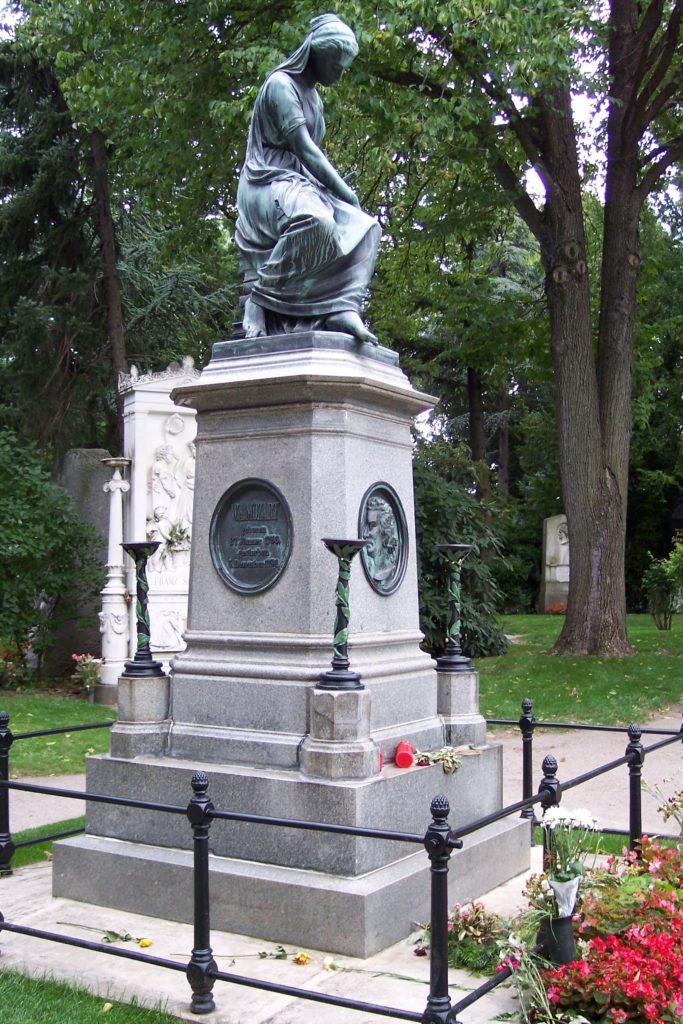 One of the most influential composers of the Classical area, he came to fame in Austria's capital after relocating from Salzburg. In his short, 35 years of age he composed over 600 pieces of music, many of which are acknowledged as pinnacles of symphonic, concertante, chamber, operatic, and choral music. His vast body of work includes popular favourites like the operas The Magic Flute (German: Die Zauberflöte), The Marriage of Figaro (German: Die Hochzeit des Figaro), and Don Giovanni. He died an untimely death just a few months after conducting the premiere of The Magic Flute of causes still hotly debated (researchers have put forth over 100 possible causes of death) and was buried at St. Marx Cemetery, where his body remains to this day. A beautiful memorial for this musical genius can be found at Grave 55.